| | |
| --- | --- |
| Michele's Doormat | Fall, 2000 |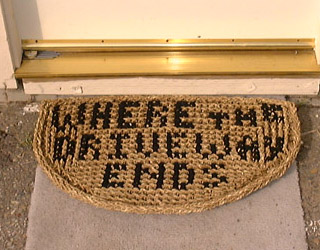 OR reasons that are not worth explaining, the house that four of my housemates and I live in is called the "Shumpound". When Albert and Michele moved into the cottage behind the house, they wanted a cute name for their dwelling as well. Michele christened it "Where The Driveway Ends", in reference to the Shel Silverstein book, as well as it being where our driveway, indeed, ends.

bought a standard grass-weave doormat, and tied strips of felt around the appropriate nodes (all 200 of them) to make the doormat announce the name of the house to all who visit.