| | |
| --- | --- |
| Joanne's CD Rack | December, 1999 |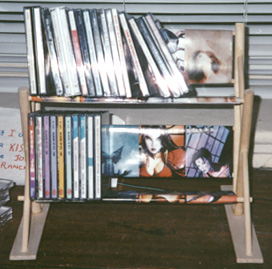 HEN Joanne moved to Philadelphia, she brought with her two cardboard boxes full of CDs. When she arrived, the CDs stayed inside the cardboard boxes because she had nowhere to put them. So for Christmas, I made her this CD rack.

had no woodworking tools at the house other than a drill and a hand saw, so the entire thing is made out of wooden dowels. It's sturdy, but it also comes apart into pieces and lays flat so she could take it on the plane. On the backs and bottoms of the racks are parts of covers from four of Joanne's favorite comics. (Not her copies, of course!) The main problem with the design is that when she fills it up with CDs, she can't see the artwork anymore!