| | |
| --- | --- |
| deMODifier | September, 2001 |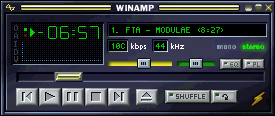 OUNDSMITH was arguably the most popular music creation program for the Apple IIgs, and countless songs were written with it. Most game and demo music was in SoundSmith format. Unfortunately, keeping your IIgs in the closet makes it difficult to listen to these songs. This program converts SoundSmith files into ScreamTracker 3 modules, which can be played by any modern MOD player (including Winamp), and even edited with several popular trackers. The converted files sound almost exactly like the originals, except for the higher sound quality that a modern player provides.

Windows executable is provided, as well as the source code, which compiles just fine under UNIX. And because I know how frustrating it is to download a new program and not be able to play with it right away, I packaged up some of my old game music for you to deMODify.
Download deMODifier for Windows: demodifier.zip (27 Kb)
Download the source code: demodifier.tar.gz (14 Kb)
Read the docs: demodifier_readme.txt
Download some songs: slixmusic.zip (160 Kb)