| | |
| --- | --- |
| Operation Lambda | summer, 1996 |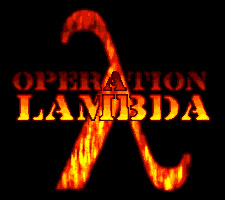 Operation Lambda has been reclassified as freeware, and can be downloaded here. However, I would like to extend my thanks to those who purchased this game over the last five years. Your support has meant a lot to me.

Y big summer project. An intense logic/action game with plenty of music, and cool graphics. Push and rotate mirrors to deflect laser beams. Open doors with "laser-locks", shoot power generators, and rescue the hostages before the time runs out, without frying yourself in the process. 100 levels of puzzles to solve, ranging from introductory to brain-boggling, along with passwords, different difficulty settings, and an original five song musical score. Rated four stars (the highest rating) by II Alive magazine!