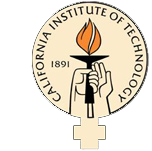 Caltech Girl
by Bret Victor and Ben Williamson
(To the tune of "Uptown Girl" by Billy Joel.)
(intro vocals)
Caltech girl,
She's been livin' in her Caltech world.
Bet she never had a double-E guy,
Bet her advisor never told her why
I'm gonna try
For a Caltech girl,
I even taught her how to code in Perl.
Then I lent her my H.P.
She never even gave it back to me,
But I have three.
And when she's walking,
I'm stalking, so close behind.
And when she's talking,
She says she loves my big huge mind.
She knows I'm not so buff,
That's okay, I'm in love
With my Caltech girl,
She even gave me her homepage url.
Now we chat on IRC all night,
Without my glasses on, she looks all right,
She's out of sight!
(bridge vocals)
Caltech girl, she's my Caltech girl,
You know I'm in love with my
Caltech girl, she's my Caltech girl,
You know I'm in love...
(fade out)