(The paper goes on to identify several real-life networks as small-world, and discuss the implications for dynamical systems. I apologize for omitting the good stuff.)
Some notes:
A computer screen is not space-constrained like a physical journal. We can use as many pixels as we need to explain a concept. Paradoxically, making lavish use of space can result in briefer writing — illustrations allow for terser prose. The word count (and reading time) of a graphic novel is far less than that of a comparable prose novel.
When an algorithm is described in prose (or code), we are typically given only the rules of the system — we can't see the data or the state. In order to understand what the algorithm is doing, we have to "play computer" and imagine the state in our head. Illustrating the state of an algorithm at each step can make the description dramatically easier to follow.
I've used a small amount of lightweight interactivity (via hover-sliders

) to allow the reader to see the progression of the algorithm, in-place, over many steps. This interaction is optional and supplemental — it's available for a reader who wants the clarification, but can be skipped by a reader who already understands (or doesn't care). For more on subtle supplemental interactivity, see Explorable Explanations.
The roles of pictures and prose can be fluid. For the description of the algorithm, pictures are coupled to individual sentences or even fragments, and the words serve to explain the action in the pictures:

Whereas, for the material near the end, pictures are coupled to entire paragraphs, and the pictures serve as examples for concepts conveyed by words: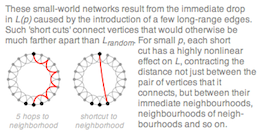 Finally, "comic-style" needn't mean characters, dialog, word balloons, or sound effects. Let alone superheroes or anthropomorphic animals. The comic form is about sequences of tightly-integrated words and pictures, together conveying a message more powerfully than the sum of their parts. The potential of this form to explain difficult concepts is unmatched and underused.
For another comic-style explanation (this time, an art analysis), see Tom Oreb's Portrait of Ward Kimball.