My camera ran out a bit early, but here's a short little movie going from Mission Dolores to (almost) our apartment...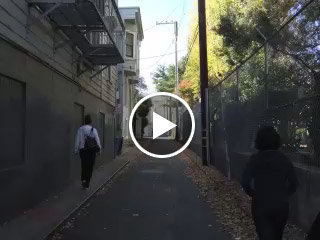 I finished playing Braid last night, and it left me in a pensive game-artsy mood.
Click on letters.

I love the idea of certain words getting you to the next "level," which would mean you could go further down the streets, exploring new places.
I hadn't really thought about levels. It's less of a "game" and more of a "toy", since you need to define your own goals.
Defining your own goals was part of the artsy/metaphorical aspect. At first, you find that it's fun to click on whatever random letters come along, but when you get to the end, you've made a meaningless word, which isn't very satisfying. When you decide you want to end up with something meaningful, you find it takes a lot of waiting for the right pieces to come along. And when they do... sometimes you miss them.